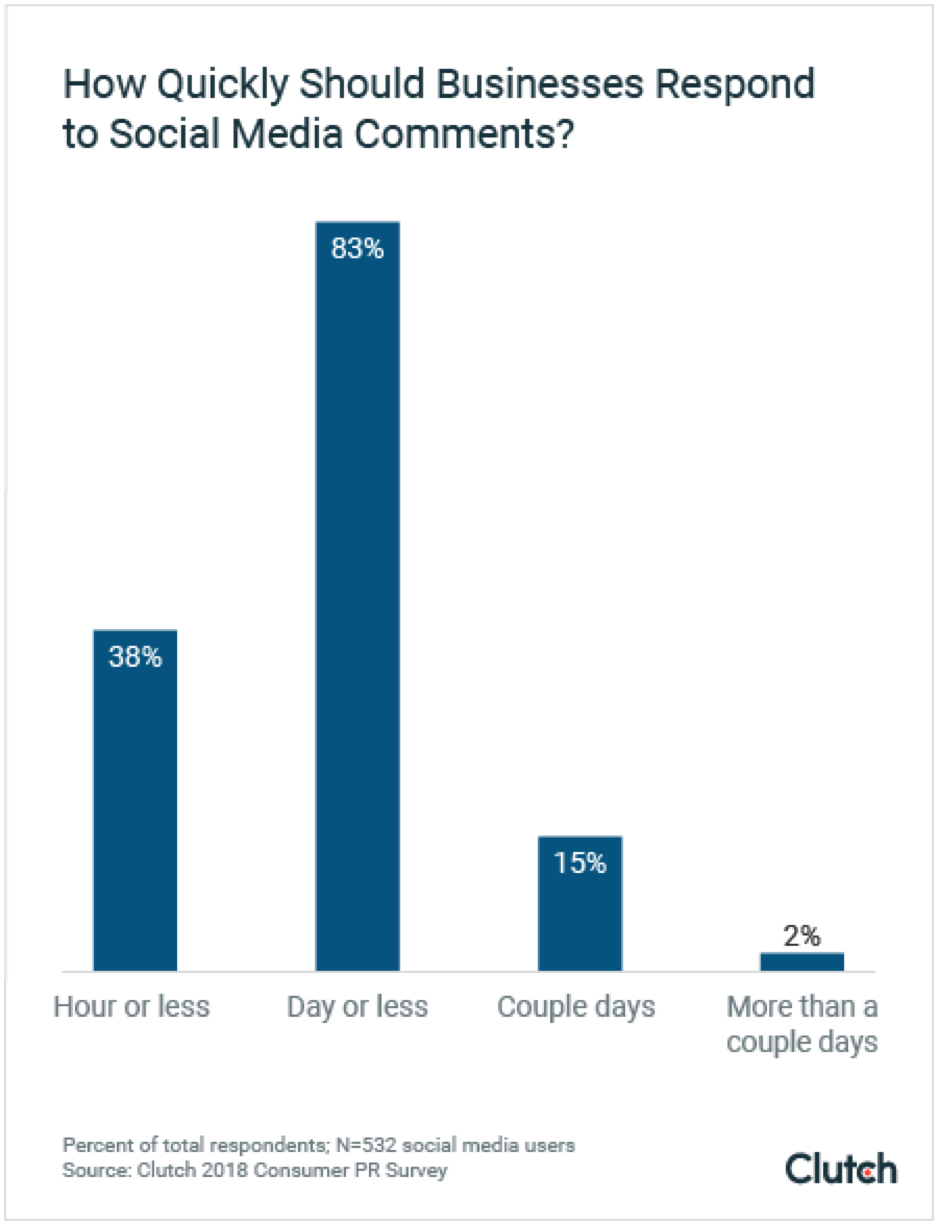 During my 25+ years in the PR industry, I have seen how our work is continually evolving and adapting to an increasingly digitized world. Digital = greater access to information. It also means companies and the people they are engaging with have powerful tool and channels…and dynamic expectations that come with those. PR and social media are important bedfellows.
Several weeks ago, Clutch, a B2B research and reviews firm, invited me to review the entirety of a thorough research study as well as its report on social media and its role in public relations. The organization then asked my thoughts. Several of my comments are quoted in this terrific article Clutch published November 1, 2018: "How Social Media Is Transforming PR and the Consumer-Business Relationship."
Below I address additional observations and relevant findings from this great study Clutch conducted…
With social media, communication between businesses and their customers is more immediate, less restricted and more public than other channels. While the medium poses a risk to businesses, the opportunities – and benefits –  are far greater for those who use and pursue social media wisely.
Overall, to get the most out of social media, businesses should:
Understand their consumers' expectations for social media interactions / engagement;
Be very responsive, especially to criticism;
Stimulate constructive dialogue;
Provide content of interest and value – not just the "corporate message of the day";
Integrate social media into other communications channels and vice versa; and
Be proactive.
(I will expound on these points in an upcoming article, btw.)
Navigate an 'Instant' Culture
People expect brands to respondto comments on social media. And quickly. One of the biggest challenges for businesses is being well prepared for instant accountability and managing consumers' expectations for instant responses.
Clutch revealed in its study that most people (76%) expect companies to respond to comments (positive and/or negative) about their brand on social media and 83% expect companies to respond within a day or less. Nearly 40% expect a response within an hour!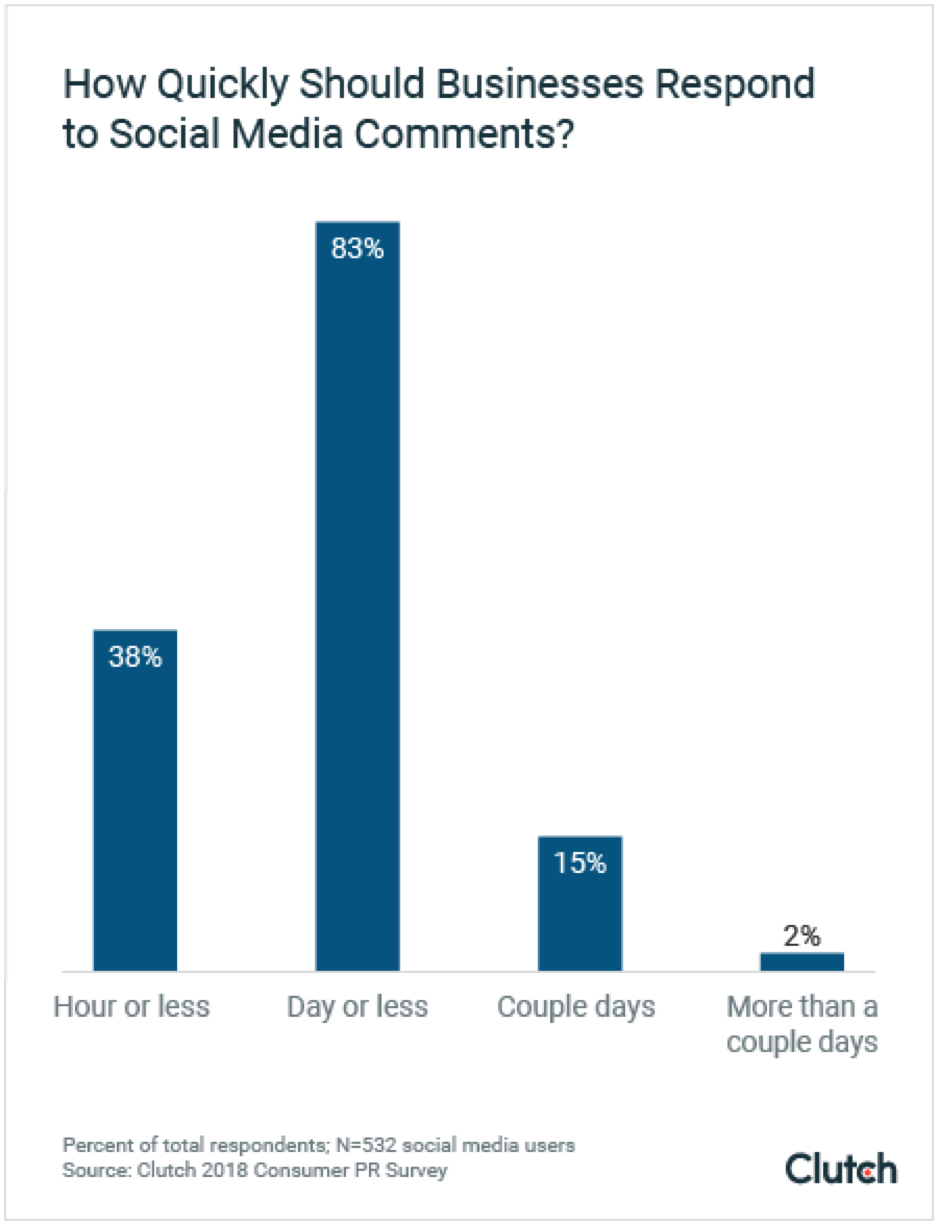 As I mentioned in my interview, consumers have a platform where they can share their opinions instantly. That means companies are asked to be accountable – instantly and often with no filters. Companies need to be prepared for this. As rapidly as organizations can see a situation mushroom into a crisis (often, in less than an hour), they likewise hold the key to heading off would-be crises.
Respond to Criticism
People expect businesses to respond to criticism and negative comments on social media. And, in genuine lemon-to-lemonade fashion, doing so can actually helpto elevate a company's brand with these consumers.

Forty-five percent (45%) of people say they would view a company more positively if it responded to negative comments on social media and 72% say they would recommend a company based on a positive social media interaction with that company.

This is great news for businesses who depend on 'word-of-mouth' recommendations to attract new customers.
The bad news? Criticism travels just as quickly as praise – in many cases, even more blindingly fast.
Be Proactive, Not Reactive
If companies aren't carefully monitoring social media – their own channels and others, they can be caught off guard. Regardless of how carefully they monitor, real-life problems can easily arise and play themselves out on social. That means companies' need to have crisis-management plans  – that ALSO address social media.
I always tell my clients to consistently monitor conversations about their brand. Smart businesses take advantage of the opportunities social media presents to engage and communicate directly with current and potential customers, influencers and others. These companies are building communities that attract and create engagement with these folks. They also rightly view social media as an extension of customer service.
Fifty-eight percent (58%) of respondents to Clutch's survey said that social media has made customer service easier for consumers. It can make it easier for businesses too, as long as they dedicate time and resources to social media and online reputation management.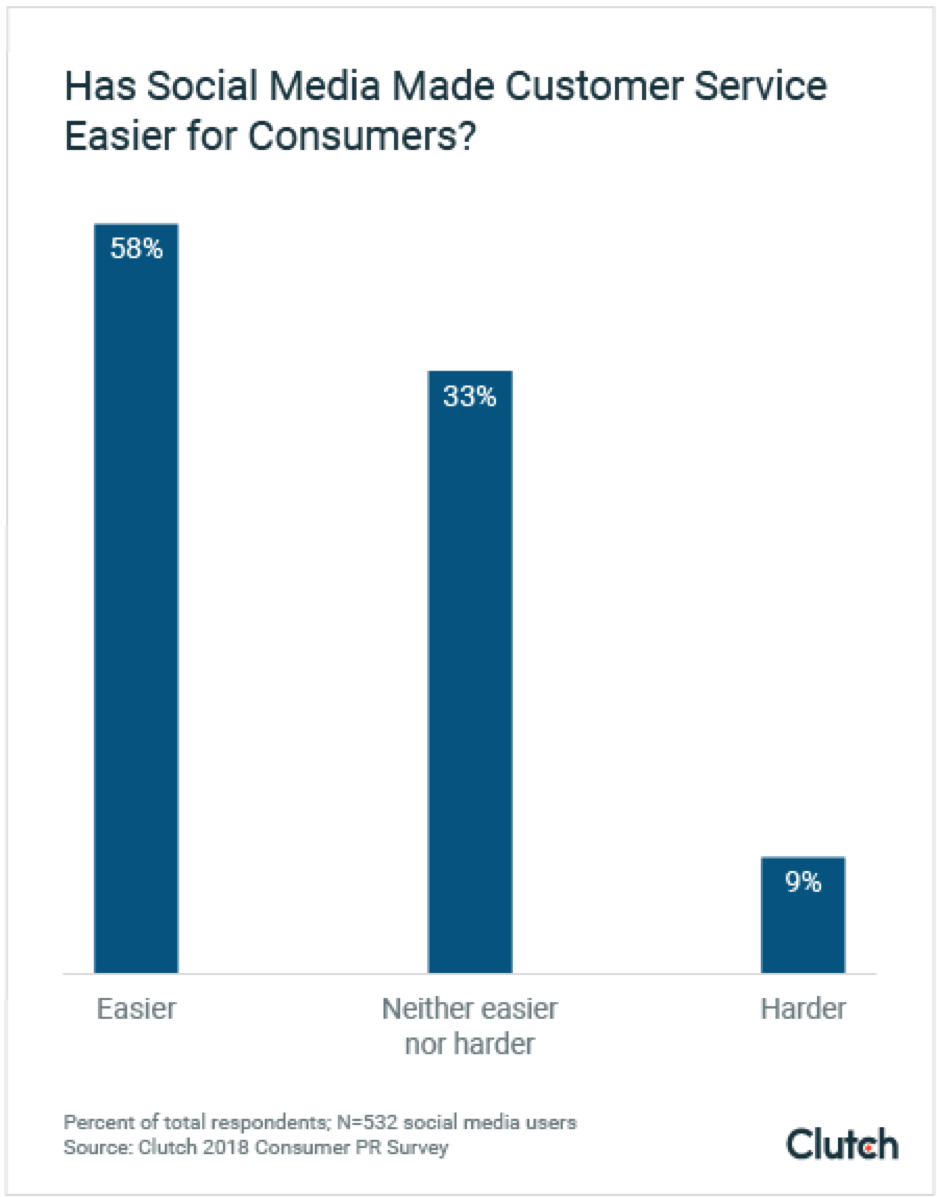 A company's social media presence reflects its culture and values. Companies that value their customers need to do so via social, as well. Social media is where consumers live. Companies need to do the same. Otherwise they risk brand inconsistency. Or worse – damaging their brand (and business).
Using social media as a customer-service tool amplifies businesses' ability to promote and market their brand. Hiring the right social media marketing consultant, employee or agency can help businesses maximize their social media strategy and integration with other aspects of their marketing mix.
Clutch's data on the importance of social media in public relations highlights changes in consumers' expectations of companies, as well as the evolution of communication between companies and customers.
Bottom line: smart companies are embracing social media as a critical extension of their communications and customer service efforts. As a result, they are staying connected, engaging and satisfying their constituent base, and bolstering their brand in the marketplace.